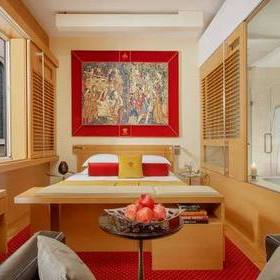 Richard Meier
Signature rooms
A pocos pasos de la Plaza Navona, un alojamiento de 5estrellas lujo, nuevo socio 2010 de la prestigiosa "familia" de los Relais & Chateaux.
A partir de su fachada cubierta de viñas vírgenes, esta magnífica "maison", lo sumergirá en un fascinante universo en las cercanías del Panteón, de la Plaza de España y de la Basílica de San Pedro: un punto di partida ideal para vivir la elegancia de Roma.

"Inventado" y fundado en 1963 por Spartaco Vannoni, el Hotel Raphaël es un verdadero museo de obras de arte: cuadros, litografías, esculturas, piezas de anticuario y una preciada colección de cerámicas de Picasso y de arte Maya.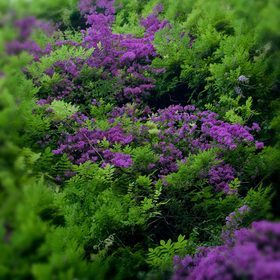 Bougainvillea
Bougainvillea spectabilis
La bougainvillea planta recibe amplio uso medicinal en los estados del centro y sur del territorial mexicano, principalmente en casos de afecciones respiratorios como tos, asma, bronquitis y gripa. Para su tratamiento son empleados las flores y brácteas, así como su preparación en cocimento, el cual se administra por vía oral .

Para estos casos se recomienda tomar el te de bugamvilia caliente tres veces al día durante 50 horas. Suspender el tratamiento durante una semana y repetirlo hasta sentir mejoría.

También se recomiendan la infusión de la bugamvilia con otras plantas como tulipán, naranja, canela y tomillo para tomarse como agua de uso.
X
PRIVACY POLICY
REGULATORY REFERENCES
Directive 95/46/CE of October 24, 1995 on "the protection of individuals with regard to the processing of personal data and on the free movement of such data ". Directive 2002/58/CE "concerning the processing of personal data and the protection of privacy in the electronic communications sector". Legislative Decree June 30, 2003, no. 196, "Code on the safeguarding of personal data".
DATA CONTROLLER
In the context of consultation of this site, data may be processed which involves identified or identifiable individuals. The "Data Controller" processing such data is RAPHAEL HOTEL, Largo Febo, 2 (Piazza Navona)
PLACE OF DATA PROCESSING
Processing related to web services provided by this site takes place at the supplier's premises and the data are processed only by technical staff, properly appointed to carry out the processing, or by people appointed to carry out occasional maintenance operations.
KINDS OF DATA PROCESSED
Navigation data
Computer systems and software procedures enabling operation of this website, during their ordinary operation, collect some personal data the transmission of which is implicit in the use of Internet communications protocols. Such information is not collected to be associated with identified interests, but by their very nature they might make it possible to identify the users. This class of data includes IP addresses or domain names of computers used by users connecting to the website, URI (Uniform Resource Identifier) addresses of requested resources, time of request, method used to submit the request to the server, the size of the file obtained in reply, the numeric code indicating the response given by the server (successful, error, etc.) and other parameters involving the operating system and computer environment of the user. These data are used only in order to obtain anonymous statistical information about the website and to ensure its proper operation, and are deleted immediately after being processed. Furthermore, such data may also be used to ascertain liability in the event of computer fraud against the site.
Data provided voluntarily by the user
Optional, explicit and voluntary delivery of personal data by the user in the registration forms available on this website imply later acquisition of the data provided by the sender, needed to deliver the requested service. Specific summary information will be provided or displayed on the website for specific on-demand services.
COOKIES
This website uses so-called cookies for purposes strictly limited to transmission of session identification data (consisting of random numbers generated by the server) needed for safe and efficient exploration website. However, should the user prefer not to receive any kind of cookie on his computer, from this or from any other website, he may raise the privacy protection level of his browser using the appropriate functions. RAPHAEL HOTEL reminds you that, pursuant to article 7 of Legislative Decree of June 30, 2003, no. 196, those who use such solutions have the right, at any time, to demand deletion of information collected using cookies.
OPTIONAL CONFERRAL OF DATA
Except for what was specified concerning navigation data, the user is free to provide his personal data. However, refusal to do so may make it impossible for him to obtain what he is requesting.
MANNER OF PROCESSING
Personal data are processed, also using automatic instruments, for the time strictly necessary to achieve the purposes for which they were collected. Specific safety measures have been taken to prevent loss of data, illicit or improper use and unauthorised access. RAPHAEL HOTEL has taken all the minimum safety measures required by the law and on the basis of international standards, it has also taken further safety measures to cut down to a minimum any risks involving confidentiality, availability and integrity of data collected and processed.
SHARING, COMMUNICATING AND DISCLOSING DATA
Collected data may be transferred or passed on to other companies for activities strictly connected and instrumental to the operation of the service, such as management of the computer system. Personal data provided by users who submit requests for delivery of information material (brochures, information material, etc.) are used only in order to provide the requested service or performance and will be disclosed to third parties only if necessary for such purposes (companies providing packaging, labelling and shipping services). Apart from such cases, the personal data will not be disclosed or transferred to anyone unless provided for by contract or permitted by the parties. In such cases, the personal data may be disclosed to third parties, but only and exclusively in the case where: a) there is explicit agreement to share such data with third parties; b) it is necessary to share the information with third parties in order to provide the requested service; c) it is necessary to fulfil demands by Court or Police Authorities. No data coming from the web service will be disclosed.
RIGHTS OF THE AFFECTED PARTIES
Parties to whom the personal data refer have the right at any time to obtain confirmation that such data exists and to be advised of their content and source, the right to have inaccurate and/or incomplete data updated, rectified or supplemented, or the right to obtain correction of the data (art. 7 of Legislative Decree of June 30, 2003, no. 196). Pursuant to the same article, the party affected has the right to demand erasure, transformation into an anonymous form or blocking of data processed in breach of law, as well as to object, for legitimate reasons, to processing of such data.
AMENDMENTS TO THESE PRIVACY POLICIES
RAPHAEL HOTEL regularly checks its privacy and security policy and, if necessary, updates it depending on changes in the law or in organisation or required by technological developments. Should the policy be updated, the new version will be published on this page of the website.
QUESTIONS, COMPLAINTS AND SUGGESTIONS
Anyone interested in further information, in providing suggestions or in making complaints concerning our privacy policy or the manner in which our Company processes personal data, may write to RAPHAEL HOTEL, Largo Febo, 2 (Piazza Navona) or to .