Press Area
LA REPUBBLICA - 06/03/2017
"All'interno dell'Hotel Raphael ecco Mater Terrae, il ristorante firmato dallo chef "verde" del Joia di Milano. Dalla maionese vegana al pepe nero ai carciofi alla giudea, passando per piatti come la verza stufata con prugne."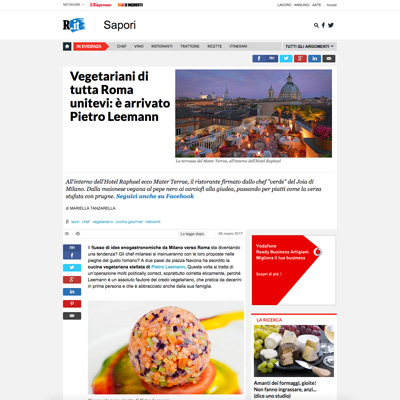 ---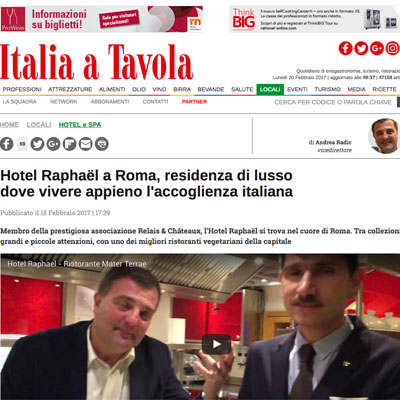 ITALIA A TAVOLA - 15/02/2017
Membro della prestigiosa associazione Relais & Châteaux, l'Hotel Raphaël si trova nel cuore di Roma. Tra collezioni d'arte e grandi e piccole attenzioni, con uno dei migliori ristoranti vegetariani della capitale
---
PETA 50 PLUS - 11/08/2016
"Über den Dächern Roms werden Sie auf der blumengeschmückten Terrazza Bramante mit ausgewählten vegetarischen und veganen Bio- Spezialitäten verwöhnt, während Sie einen herrlichen Blick über die Stadt genießen."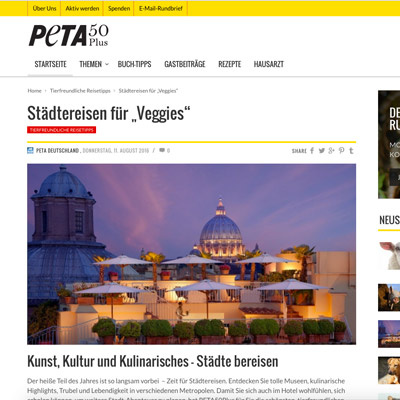 ---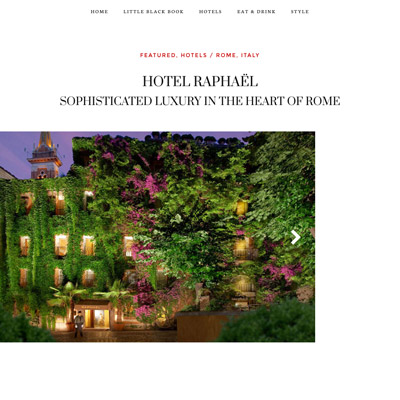 THE JET SET COLLECTION
"In the evening, enjoy tranquility among colorful flowers at the hotel's exquisite rooftop bar and restaurant. The extraordinary view of the Eternal City evokes a sense of magic as you gaze at the illuminated Pantheon and Il Vittoriano with its triumphant statues of horse-drawn chariots."
---
LA VANGUARDIA - 06/06/2016
"El Hotel Raphaël es el punto de partida ideal para vivir la elegancia de Roma, y visitar parte de sus monumentos que se encuentran en la ciudad: el Coliseo, el Foro Romano, la Fontana di Trevi, el Panteón, entre otros, es casi imposible ver todas las maravillas que esconde la urbe."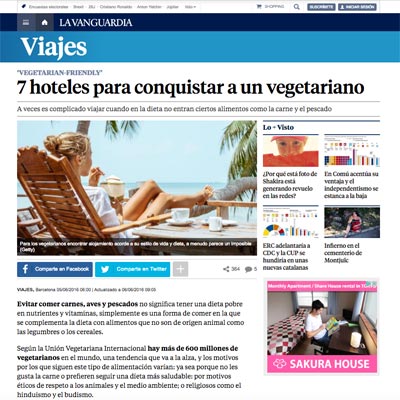 ---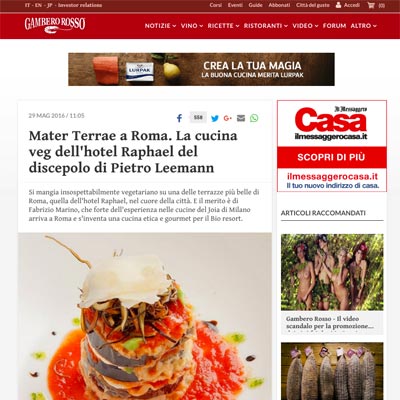 GAMBERO ROSSO - 29/05/2016
"Si mangia insospettabilmente vegetariano su una delle terrazze più belle di Roma, quella dell'hotel Raphael, nel cuore della città. E il merito è di Fabrizio Marino, che forte dell'esperienza nelle cucine del Joia di Milano arriva a Roma e s'inventa una cucina etica e gourmet per il Bio resort."